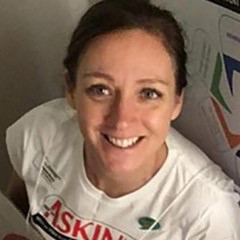 Rachel Reece
, Tissue Viability Clinical Nurse Specialist, University Hospitals Coventry and Warwickshire NHS Trust  
A recent study (Guest et al, 2015) has estimated that 1.5% of the adult population will have a leg ulcer, 5% of adult patients with diabetes will have a diabetic foot ulcer and in total 4.5% of the adult population will have a wound. Pressure ulcers accounted for 9% (n=153 000 patients) of all wounds managed by the UK's National Health Service (NHS) in 2012/2013, the year of the study's data collection.
 
For the University Hospital Coventry Warwickshire Tissue Viability Service (UHCWTVS), this equates to an ever-increasing number of patients at risk of, or with, pressure ulcers and demand for tissue viability intervention that Is set to increase year on year.  

The relatively small team of tissue viability nurses in the UHCWTVS consists of one full-time and two part-time nurses working across a 1200 bed acute NHS trust covering two sites. With a large portion of their work dedicated to pressure ulcer prevention and management the tissue viability team utilise the support of an effective team of link workers who are essential if the demand for wound care across the trust is to be met.

There are approximately 140 link workers, nominated by their ward managers, who all share the important attribute of being interested in wound care and the desire to share knowledge to ensure that the most effective up-to-date care is provided on their ward or in their department. All of the link workers play an active role in raising awareness of tissue viability issues by sharing key messages, providing practical wound care advice and actively participate in Stop the Pressure events across the Trust (Figure 1).

The link workers also cascade information to their colleagues by providing power training. This consists of short, 10-minute training sessions to share the key aspects of new/existing guidelines, new documentation or changes to practice that can be delivered by our link workers to their ward/department. It has proven to be an effective way to share knowledge in the workplace.
 

Figure 1 – The University Hospital Coventry Warwickshire Tissue Viability Link Workers at a recent Stop the Pressure event.
To enable the link workers to develop the skills and knowledge required to effectively carry out their role, the tissue viability team facilitates four training days annually. These days are supplemented by emails and posts on our UHCW link worker closed Facebook page which most of our link workers subscribe to. We have found Facebook to be an effective way of sharing information particularly when study days have been cancelled due to winter pressures at UHCW.

All of the training is designed to ensure that link workers feel confident to be the first point of reference for their colleagues to provide advice on wound care and raise awareness of pressure ulcer prevention. We also invite link workers who have successfully implemented change in their area of work to share how they have done this, which is particularly inspiring to their fellow link workers.
Some link workers have indicated that they often feel anxious about giving out advice, it is frequently the less experienced staff who may find it difficult to challenge the practice of more experienced colleagues. The tissue viability team wanted to provide additional resources to support the link workers and ultimately increase their confidence when offering advice to their co-workers.

As an extra recourse, and to address these concerns, the tissue viability team developed several 'quick action guides' which the link workers can refer to, negating the need to access lengthy policies and procedures which staff regularly report are difficult and time-consuming to read when working in busy wards and departments.

These quick action guides have now become part of a link worker handbook (Figure 2) which includes essential information on subjects such as how to obtain and order products, indications for their use, location of any equipment, and who to contact for additional advice.

To ensure that the handbook didn't just become 'another folder on an office shelf' the tissue viability team felt that it should be small, concise and made of a wipeable material so that it could be used frequently in clinical areas. In order to achieve this, they approached their colleagues from industry for help in layout and production.

The handbook was launched at one of the link worker study days and staff were taken through the guide page by page to provide the opportunity for questions. Feedback has been extremely positive so far, particularly from some of the newer members of the link worker team who have reported that they refer to it regularly when being asked to advise on wound management. Link workers have also commented that they feel empowered to confidently challenge practice as they have a document to refer to which can be accessed quickly, reassuring them that the information they are giving is correct.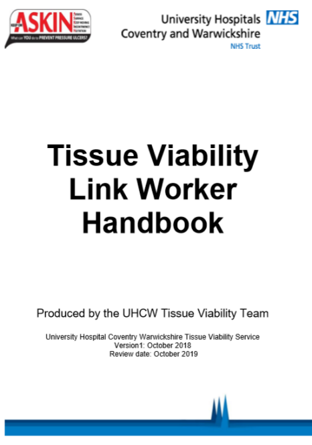 So far, the tissue viability team have produced quick action guides on leg ulcer management, skin tears and a dressing selection guide. These have all been added to the handbook with the intention of developing more guides on topics suggested by the link workers to further support them in their role. The link workers will be asked to bring their handbook to their next link worker day in March when additional pages will be added in response to demand. These will include a new checklist for NPWT therapy detailing equipment needed, codes for ordering and a section to indicate frequency of dressing changes. This document was developed when it was highlighted that staff were not always aware when dressings were next due for changing, to help ensure that optimum therapy is always provided. At the meeting, the link workers will also be asked to provide feedback on the handbook and also to identify any additional information that they feel would be beneficial for their role.

The link worker handbook has offered support and given confidence to the link workers, equipping them with additional knowledge to enable them to successfully carry out their role. It allows a small team of TVNs to disseminate accurate information that can be used at the bedside to directly benefit patients, making it an invaluable resource throughout the trust.

The tissue viability team would like to thank their amazing team of link workers for their ongoing enthusiasm and dedication to providing excellent care to the patients at UHCW.
---
References
Guest JF, Ayoub N, Mcllwraith T et al (2015) Health economic burden that wounds impose on the National Health Service in the UK. BMJ Open 5(12): e009283